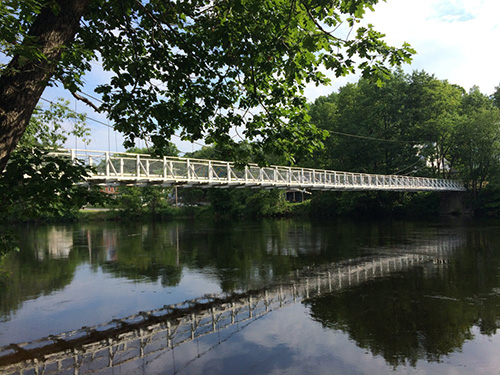 Centrally located at the junction of Routes 2 and 201, Skowhegan is nestled in the picturesque Kennebec River Valley. The town offers a laid-back way of life and plentiful recreation opportunities with a host of trail systems in and around Skowhegan, beaches and more at Lake George Regional Park, and easy access to the mountains, woods, and river.
Skowhegan also features arts and historical offerings—from public art that includes more than 20 sculptures by renowned Maine artist Bernard Langlais, to a rich history on view at the Skowhegan History House, in the downtown Flat Iron District, and in numerous other locations throughout town. Ten minutes away is Lakewood Theater, one of America's oldest and most famous summer theaters.
An agricultural food hub, Skowhegan boasts an incredible local food and brew scene. The town is home to a year-round farmers' market, organic grain purveyor Maine Grains, the annual Kneading Conference and Artisan Bread Fair, two craft breweries, an orchard, numerous farms, a CSA, and restaurants that serve local harvest. It's also the seat of Somerset County—the nation's leading maple syrup producer.
With a slate of community-building events throughout the year, Skowhegan is an amazing place for families. Enjoy maple snow cones and a leaf hunt at Maple Festival, celebrate life on the river with a glow-stick river run and the madcap bed races at River Fest—and don't miss the elf-on-a-shelf scavenger hunt, holiday parade, or visits with Santa during the Holiday Stroll. There are great adult-only events too, including the Skowhegan Craft Brew Festival, which features an array of Maine craft brewers, local food vendors, live music, and more.